We hold permission issued by the UK CAA (Civil Aviation Authority) to produce drone light shows anywhere within the UK at anytime. This means we do not need to apply each time to get permission to fly a swarm of drones prior to your event.
We do however need to do two things: 1) issue a NOTAM 2) get permission from any land owners over which we fly the display over.
1) NOTAM
A NOTAM, or Notice to Airman/woman, is an official notice or advisory issued by aviation authorities to inform pilots and other aviation personnel about important information related to the safe and efficient operation of manned aircraft. NOTAMs contain critical information such as the presence of a drone light show, changes in airspace availability, airport closures, temporary flight restrictions, navigational aids status, runway closures, and other pertinent details that could affect flight planning and aviation safety. Pilots are required to check NOTAMs before each flight to stay informed about any potential hazards or changes in the airspace or airport conditions that might impact their route or landing. NOTAMs are an essential part of aviation safety and help ensure that pilots are aware of and can adapt to current conditions in the airspace they will be traversing.
This is not a permission it is a notification that we issue.
2) Permission from land owners
We require permission from all land owners over which the show will fly. This is usually land owned by you the client, the venue or by 3rd parties. If it is a 3rd party (or some of it is a 3rd party) we will require written permission from the landowner. We will advise how big an area of land is required.
The venue or client usually obtain this permission however we are also able to take care of that. If you are seeking permission we have this handy guide to help when approaching any neighbours or 3rd parties:
Inform them that a drone light show is being organised and will not disrupt anyone. We require permission to fly over their land. In some cases this might be the actual show or elements of the sterile zone required between the drones and any people.
Inform them that the drones do not have any cameras. It is impossible for them to record any photos or video and that is not the intention anyway.
Inform them that you are using a reputable company who are hold full permissions and are fully insured for drone shows.
Depending on the type of event it can be advantagous to invite any 3rd parties where permission is required to enjoy the show as a guest in the audience.
Safety systems
Our drones are designed and manufactured in house. They feature a whole host of security and safety systems. These systems have been rigorously scrutinised by the CAA when granting us our permissions.
We create a virtual barrier in the sky called a Geo-Fence. This is programmed into every drone and each drone has the intelligence to independently react if it reaches this invisible fence.
A geo-fence, short for "geographical fence," is a virtual boundary or geographical area defined by GPS (Global Positioning System) coordinates. These virtual boundaries are established to trigger certain actions or restrictions when a drone enters or exits the designated area. Geo-fencing allows us to automatically hold a drone from moving any further and/or disarm / return to the ground.
When looking at any land owner permissions please get in touch for any assistance – we're happy to help.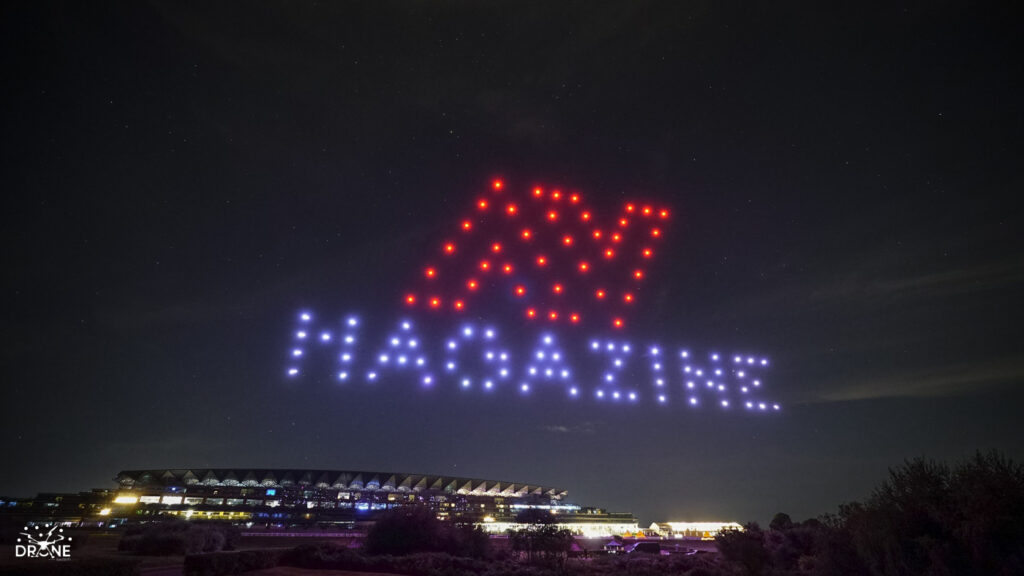 Booking a drone light show from DroneSwarm is a fantastic way to elevate any event or celebration. DroneSwarm is known in the UK for its expertise in choreographing mesmerising drone displays that can turn any night sky into a canvas of lights and art.
To book a drone light show with them start by contacting our dedicated team of professionals who specialise in creating breathtaking aerial spectacles. They will guide you through the entire process, from designing the light show to coordinating logistics and ensuring all safety and regulatory requirements are met. DroneSwarm's commitment to innovation, safety, and precision ensures that your event will be transformed into a captivating and memorable experience that leaves a lasting impression on your audience. Whether it's a wedding, corporate event, or any special occasion, booking a drone light show from DroneSwarm is sure to add a touch of magic to your celebration.