DRONE LIGHT SHOWS FOR
FESTIVALS & CONCERTS

Elevate Your Festival & Concert Event with Drone Light Shows
When it comes to music festivals and concerts, creating unforgettable moments and immersive experiences is the goal. That's where Drone Swarm steps in. We're pioneers in drone light shows, offering a unique and captivating spectacle that's wowed at many events across the country.

Drone light shows have revolutionised the possibilities at music festivals to create stunning visual spectacles for the audience. By incorporating drones into performances, music festivals can now produce breathtaking aerial light shows that enhance the overall experience for concert-goers.
With their ability to enchant and engage audiences both on-site and online, drone light displays have become an integral part of enhancing the overall festival atmosphere and leaving a lasting impression on attendees.
The formations and patterns created are carefully tailored by our animation team to fit the mood and theme of the music festival.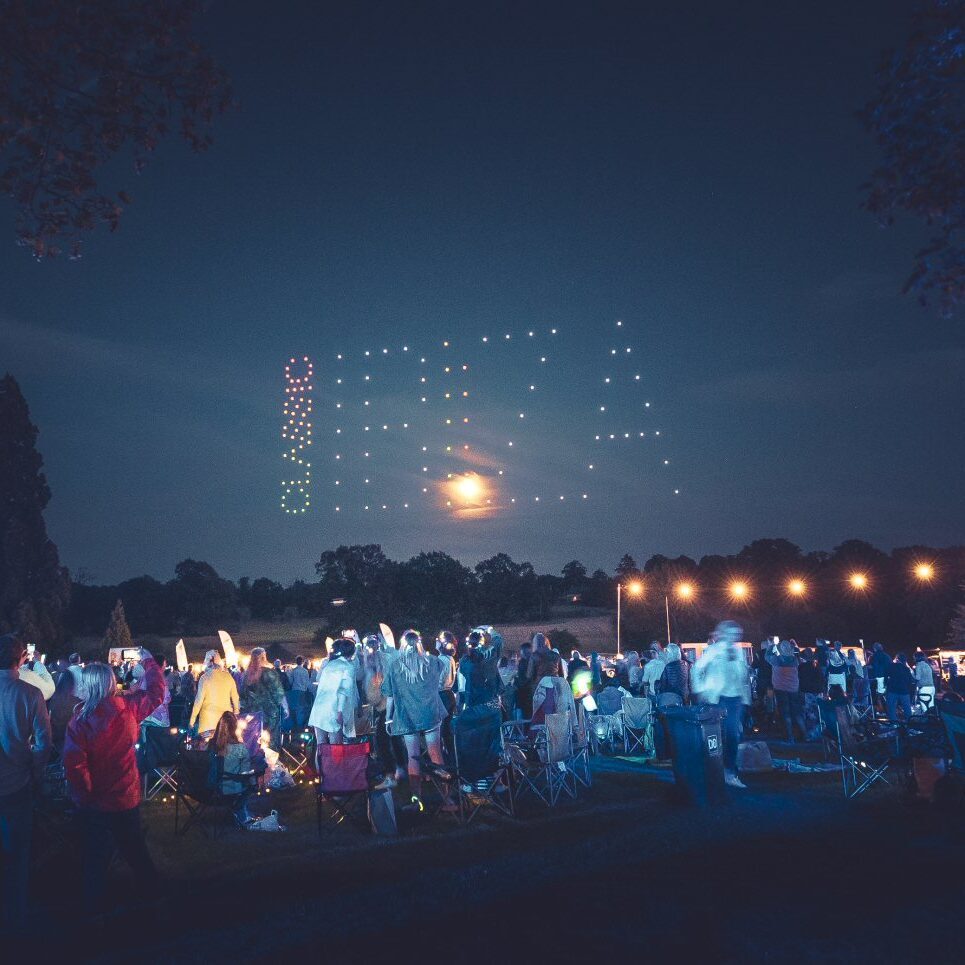 Classic Ibiza at Burghley House: A Highlight
As proof of our commitment to excellence, Drone Swarm recently wowed the audience at Classic Ibiza at Burghley House. Our surprise drone light show supported a tribute to Maxi Jazz from Faithless, with the Urban Soul Orchestra performing live. Nearly 10,000 people were in awe as our drones danced in perfect synchrony, creating an unforgettable spectacle.
The Drone Swarm Experience
At Drone Swarm, we're all about drone light shows. But we're not just about the show; we're about creating an experience that goes beyond what you've seen before. We're known for our innovation and our ability to push the limits of creativity.
What can drone light shows add to your festival or concert?
Our drone light shows can bring a touch of magic to your festival or concert. The night sky above your event will be embellished with custom-designed formations, patterns, or messages that perfectly match your event's theme and vibe.
Whether it's intricate shapes, captivating words, or artist logos, our drones act as a dynamic canvas for creative expression. In sync with the music, our drones craft an immersive visual journey, creating a stunning fusion of light, sound, and motion that elevates your festival or concert to new heights.
Regardless of the weather, our cutting-edge technology guarantees a vibrant and unforgettable show tailored to your event.
Drone Swarm can bring this to your event, enhancing the atmosphere and leaving a lasting impression on the audience.
Every drone light show we create is a work of art. We collaborate closely with festival organisers to design shapes, patterns, and even messages that match the event's mood and theme. No matter what your vision is, our drones will turn the sky into a dynamic canvas for creative expression that goes beyond your expectations.
We pay meticulous attention to detail, making sure that your show is a unique and unforgettable experience tailored to your festival or concert.

Drone displays also have the potential to reach a wider audience beyond the festival grounds. With their captivating beauty and mesmerising movements, they are often captured on cameras and shared on social media platforms, with the potential to reach millions of people worldwide.
The viral nature of drone light displays can generate buzz and attract new attendees to future music festivals, helping to expand the festival's reach and reputation.
We are the experts in creating captivating drone light shows. Our journey began in 2015 when we obtained the essential permission, known as PFAW (Permission for Aerial Work), from the Civil Aviation Authority (CAA) in the UK. This marked a pivotal moment as we became the first company in the UK to gain CAA permission for drone light shows. Our dedication to safety and compliance has only grown stronger, and our experience in deploying more drone shows in the UK than any other company reflects our commitment to excellence.
Behind every mesmerising display is advanced technology. Drone Swarm's fleet comprises custom-designed drones, equipped with state-of-the-art LED lights capable of producing a stunning array of 16.7 million colours with vivid intensity. When you choose Drone Swarm, you're choosing a team of experts with a track record of excellence, a commitment to cutting-edge technology, and a dedication to making your festival or concert a truly extraordinary experience.
Drone Swarm doesn't just provide drone light shows; we create unforgettable memories.
Elevate your festival or concert experience with Drone Swarm and let us transform your event into a visual masterpiece that will be remembered for years to come.