DRONE SHOWS FOR PROPOSALS, WEDDINGS & PARTIES
Elevate Your Proposal, Wedding or Party with Drone Light Shows
When it comes to making memories that last a lifetime, drone light shows offer an unmatched blend of technology and romance. At Drone Swarm, we understand that your special moments deserve to be celebrated in a truly unique and extraordinary way. That's why we've harnessed the power of cutting-edge technology to create breathtaking drone shows that will leave you and your guests in awe.
Drone Shows for Proposals
Our Drone Light Shows for proposals create an enchanting atmosphere that sets the stage for the question of a lifetime. With precision and grace, our drones can spell out your love in the sky, form a heart, or any formation and design of your choosing- all while you pop the question. It's a proposal like no other, guaranteed to sweep your partner off their feet.

We were honoured to help Rhys pop the question at an event we produce called Firework Champions. The display took place at Newby Hall near Ripon, North Yorkshire and was the first time in the UK a drone proposal has been flown as a swarm.

DroneSwarm Director Mat Lawrence said "It was an absolute pleasure to work with Rhys to design and fly the UK's first ever drone light show proposal display for his partner Megan. Not only was it a surprise for her but also the attendees of the event at Newby Hall. It was an emotional experience."
To learn more about the drone light show we produced for Megan and Rhys, visit our article on the event.

If you'd like to discuss proposing to your loved one with drones please get in touch with us on 01327 876 037 or complete our contact us form – we can produce a custom proposal display to take place at a venue or location of your choosing.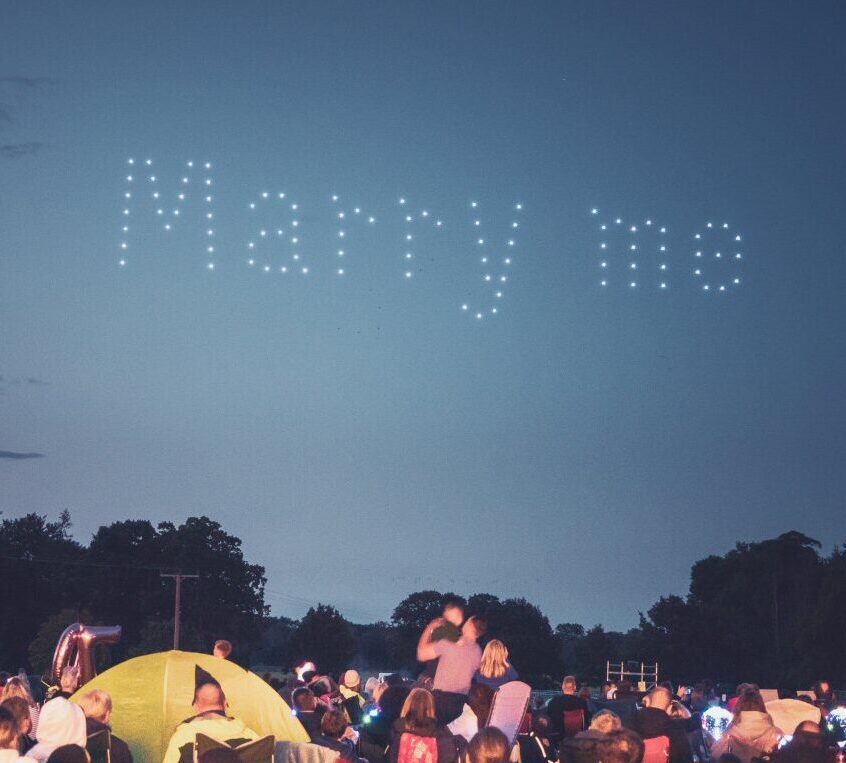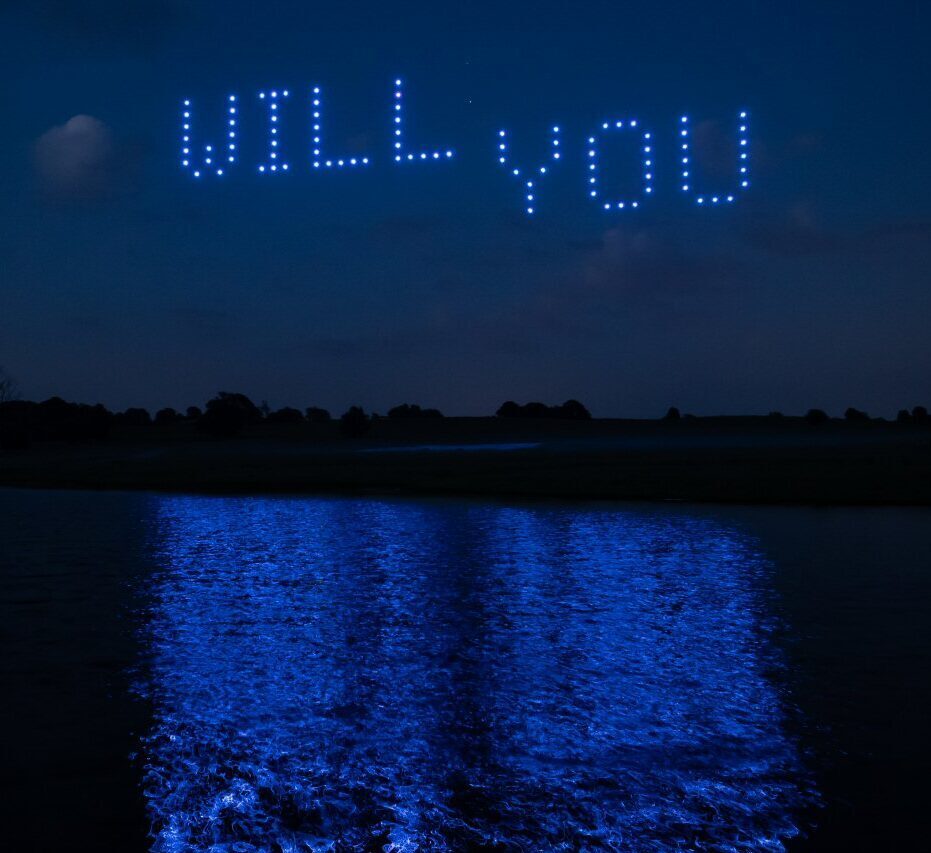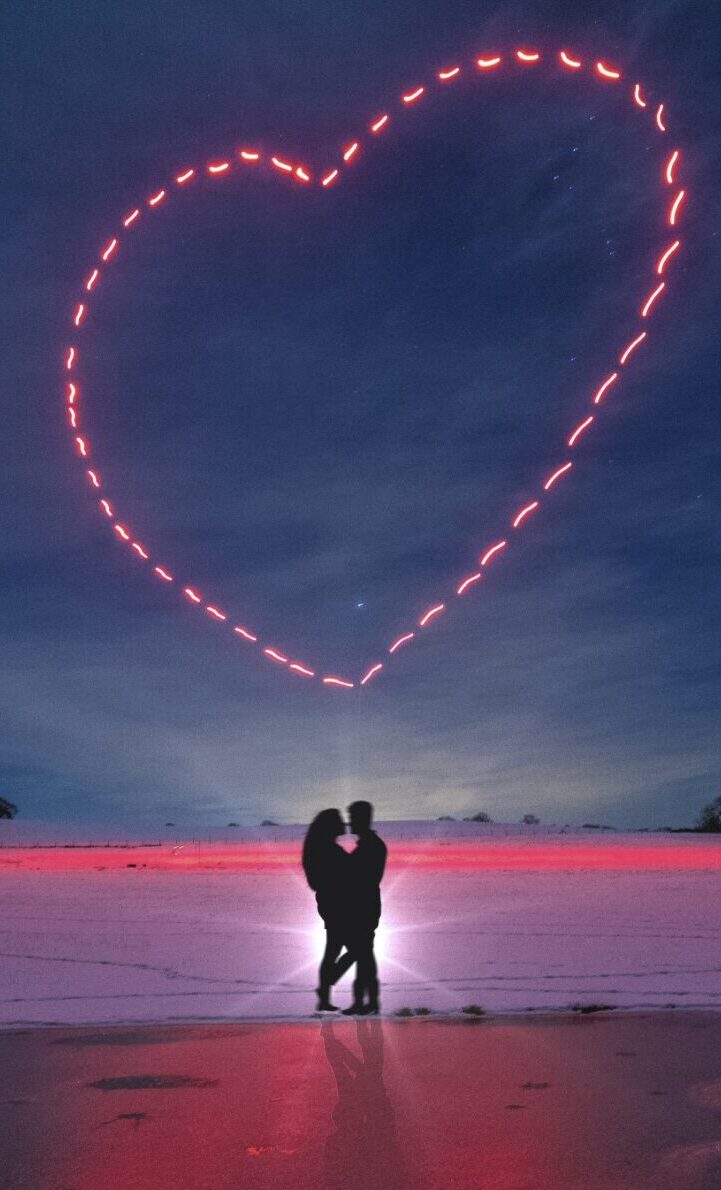 Wedding Drone Light Shows
Your wedding day should be nothing short of magical. With our drone light shows, you can add an extra layer of enchantment to your special day. Imagine your love story depicted in lights across the night sky, or a beautifully choreographed drone display that complements your wedding theme. Whether it's during the ceremony, reception, or as a grand finale, our drone shows will make your wedding unforgettable, capturing the hearts of everyone in attendance.
We will work closely with your wedding venue and if necessary, will obtain clearance and permissions to be able to provide a mesmerising drone light show on your wedding day. We will take care of it all leaving you to concentrate on planning your special day.
Adding a drone show to your wedding will provide something unique that your guests will not have seen before. What's more, these drone light shows are no longer just for expansive outdoor venues – we've been working hard on a cost-effective package that's specifically designed for hotels and venues with moderate room.
More and more venues are wanting to move away from traditional fireworks displays – drone light shows have taken the concept of aerial entertainment to new heights. With their intricate choreography by our in-house animation experts, drones create a symphony of lights that gracefully glide across the night sky. The result is a spellbinding experience that will leave your guests in awe with amazing photo opportunities.
Introducing the cost-effective package
Wedding budgets can be a concern, but that doesn't mean you have to compromise on making your day truly extraordinary. Our new wedding drone light show package starts from just £7495, offering you a display of 30 drones that will light up the night in ways you've never imagined. Designed specifically for venues with restricted rooms.
PERSONALISED INITIALS INCLUDED
One of the most exciting features of our wedding drone light show package is the ability to customise the animation. We understand that each couple has a unique story to tell, and we want to help you tell it in the most captivating way possible. To keep costs reasonable and avoid lengthy studio design work, we've crafted an animation ready to go. We customise the ending with your initials, making the show not only stunning but also uniquely yours.
Custom Animation for a Personal Touch
If you'd like more drones or a fully customised animation telling your story then we can quote separately for this. Beginning with a brainstorming session with our project and animation team we'll work together to produce a storyboard mapping out the different scenes. Once approved we'll then show you visualisations of each scene for further approval before we go to full animation, test flight and of course the performance on your special day.
A Photo Opportunity Like No Other
This extraordinary visual spectacle isn't just reserved for your eyes – it's also a fantastic opportunity for truly unique wedding photos. The drones' captivating display will add a touch of magic to your photos, ensuring that your wedding album stands out from the rest. We can even help with taking the photos with our expert photography team.
Drone Shows For Any Party!

When it's time to celebrate, why settle for ordinary when you can have extraordinary? Our drone light shows for parties are designed to dazzle and amaze. Whether it's a birthday, anniversary, or any festive occasion, our drones can create a visual spectacle that your guests will never forget.
As an example of our work, we recently provided a display for a birthday celebration. This unforgettable experience consisted of a seamless combination of fireworks, a bespoke drone light show, lighting, and a PA system – all skillfully orchestrated in-house by our parent company, MLE Pyrotechnics.
What made this event truly special was the requirement to keep the entire spectacle a complete surprise for the client's husband at their residential property. This challenge meant the team had a very limited window to set up during the day. Lighting fixtures were cleverly concealed with camo, and the fireworks and drones were expertly arranged out of sight from the house. Even the camera locations were set up at the very last minute, ensuring that the surprise remained intact until the grand reveal.
Whether it's a birthday, anniversary, or any festive occasion, our drones can create a visual spectacle that your guests will never forget. From pulsating lights to synchronised movements, our drone displays will elevate your party to new heights and keep the energy soaring.
With a pioneering spirit, Drone Swarm leads the way in the world of drone light shows. We are proud to be the first company in the UK to obtain permission from the CAA for producing drone light shows. Since then, we have amassed unrivalled experience, having deployed more drone shows in the UK than any other company.
Our journey began in 2015, evolving from a firework display company into experts in the realm of UAV technology. We hold the prestigious PFCO (permission to fly for commercial operations), a testament to our commitment to meeting the rigorous legal standards. Our in-house designed and rainproof Unmanned Aircraft, equipped with industry-leading LED technology, produce a staggering palette of 16.7 million colours.
We handle the intricate details, from CAA permissions to safety monitoring, ensuring your drone show is a true visual masterpiece. With cutting-edge technology, meticulous planning, and a diverse range of expertise, Drone Swarm stands as the trusted choice for unforgettable events.
Contact us now to discuss your unique needs and let us bring your vision to life. Make your special moments unforgettable with Drone Swarm – where innovation meets celebration!
Drone Swarm doesn't just provide drone light shows; we create unforgettable memories.
Elevate your festival or concert experience with Drone Swarm and let us transform your event into a visual masterpiece that will be remembered for years to come.