NYE drone shows are an amazing alternative to the norm… New Year's Eve this year will be a bit different with the absence of the usual public celebration events such as London NYE fireworks.
Why not have a NYE drone light show? The advantage for a drone show is it can be seen from further afield. You do not need to encourage or require public to assemble in a specific location.
An example would be a city event where drones produce a display high in the sky at various points so people can watch from their garden.
Another option is to pre-record the display for broadcasting on the evening. We can display symbols, scenes, text or logos and produce a entertaining show to keep the audience engaged through the duration of the show.
Our drone displays incorporate 16.7 million colour LED systems and also firework control. We're able to produce some of the most dynamic patterns and effects in the sky. Your drone show can be fully choreographed to music which is either played locally, on a live stream or broadcast on the local radio.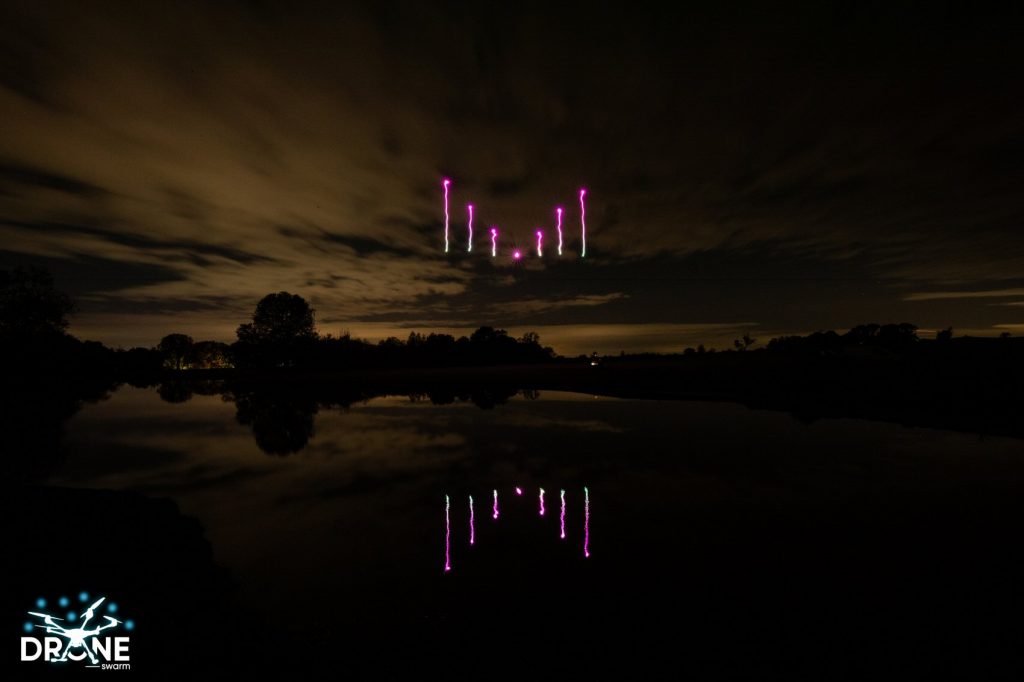 Birmingham, Manchester, Leicester, Bristol, Leeds, Milton Keynes or similar cities can benefit from an uplifting display of lights to bring the new year in. We'll take care of all the licensing and airspace liaison with the CAA.
Lasers can also be incorporated and they have the ability to create long reaching bright beams of colour that move around the sky for miles in bright white or full colour – synchronised to any music being broadcast.
Get in touch with us to discuss your ideas or NYE drone show event by calling 01327 876 037 or emailing hello@droneswarm.co.uk.
DroneSwarm is part of the MLE Pyrotechnics group, organisers of Firework Champions – you're in safe hands.