Drone Swarming – The Sky Is The Limit!
DroneSwarm® is a trading name of MLE Pyrotechnics Limited – one of the UK's leading firework display companies.
We are proud to be the first company in the UK to obtain permission from the CAA to produce drone light shows and since then we've deployed more drone shows than any other company in the UK.

We produce everything ourselves from the drone platform and LED system through to the 3D show designs. Because we also provide fireworks, lighting and lasers in house we are in the very unique position of being able to offer unrivalled choreography should you wish to combine with other visual artforms.
Whether it is purely a full colour LED drone light show or a package combined with fireworks, lasers or lighting on the ground – reach out to our friendly professional team to get your journey started.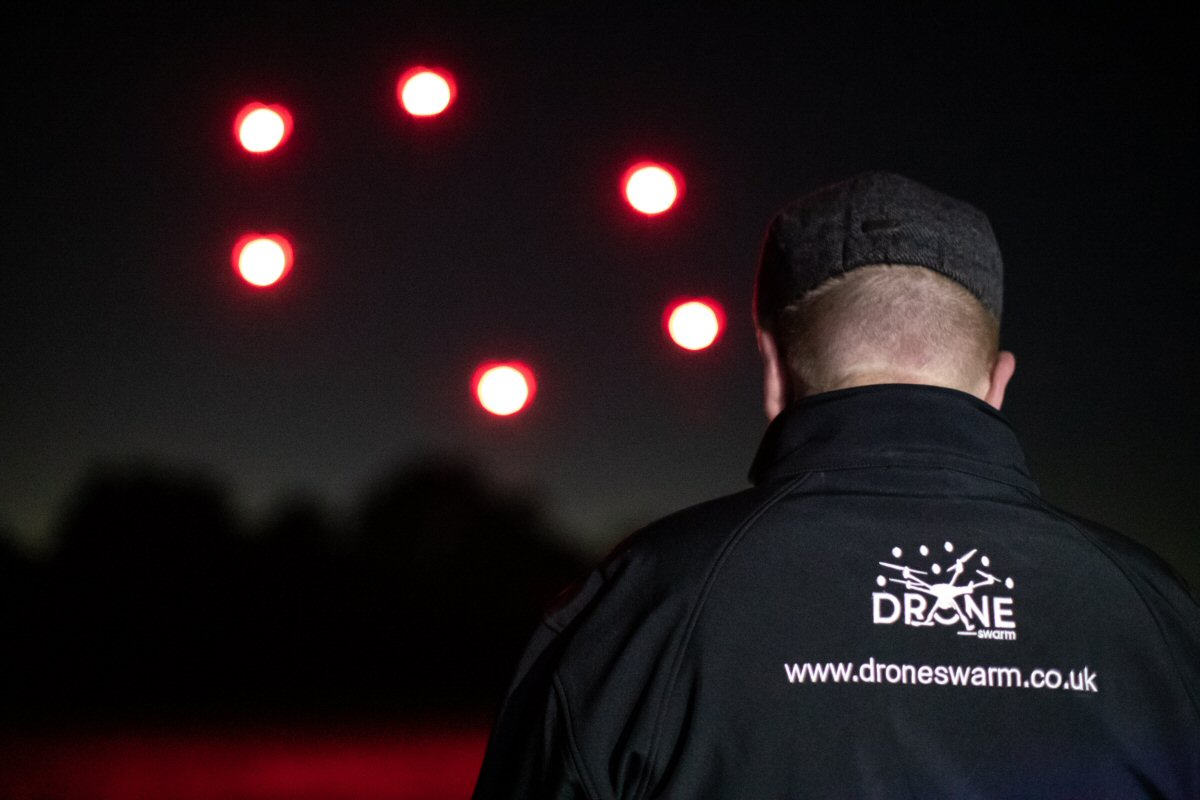 Put simply it is the control of several drones, also called UA (unmanned aircraft) or UAS (unmanned aircraft system) from a single point of control on the ground.

Each drone is programmed to display an intense light of any colour and / or to display firework effects. Our LED system is industry leading using 6 colours instead of the normal 3 RGB and because of this it enables maximum brightness and diversity of colour pallet.

Our fleet of unmanned aircraft use RTK GPS. This gives us far greater accuracy for each drone which is important for the safety and performance of the show.

We use state of the art software techniques to design and model the show beforehand. We check very carefully each aircraft's flight path for proximity and speed limitations during the design process.

The ability to synchronise each drone's LED system or fireworks to 1/1000th of a second comes from our 20 year experience manufacturing one of the world's leading digital firework control systems.
Very! Safety is the most important part and we have many hundreds of pages of safety documentation and written operating procedures.
Drone Swarm has been scrutinised by the CAA and permission saught for a very precise set of operations.
We'll need a sterile operating zone for the drones and control for the audience to ensure they don't go into this area. We advise on this and can even take care of that.
We also provide the following services in house to compliment Drone Swarming…
World class Firework displays
We're owned by one of the UK's leading firework display companies – MLE Pyrotechnics Limited.
Drone Swarming is the perfect compliment to fireworks OR the perfect replacement if you can no longer have them at your event.
Either way – get in touch we've got you covered and offer a full turn-key solution.
High energy laser displays
Full colour diode and OPSL laser projection
We can provide full colour high power lasers to compliment your drone show. You'll probably not find another company able to combine lasers and drones together like we can.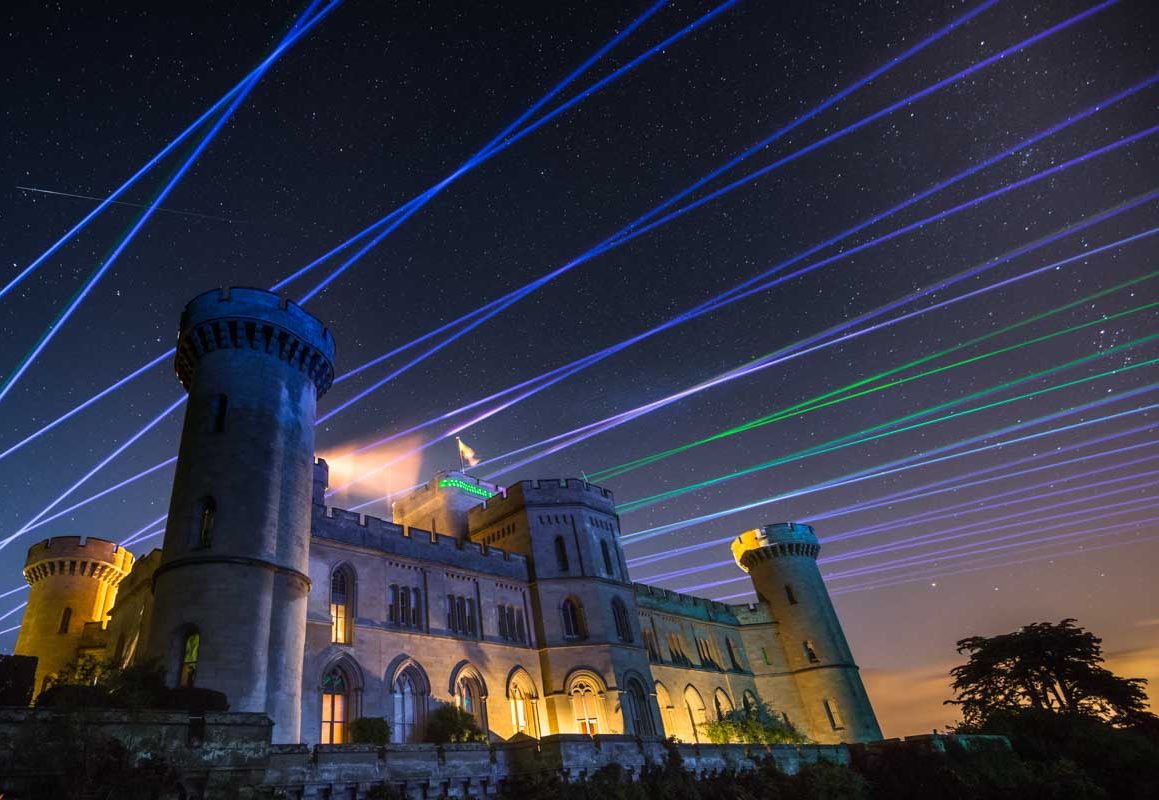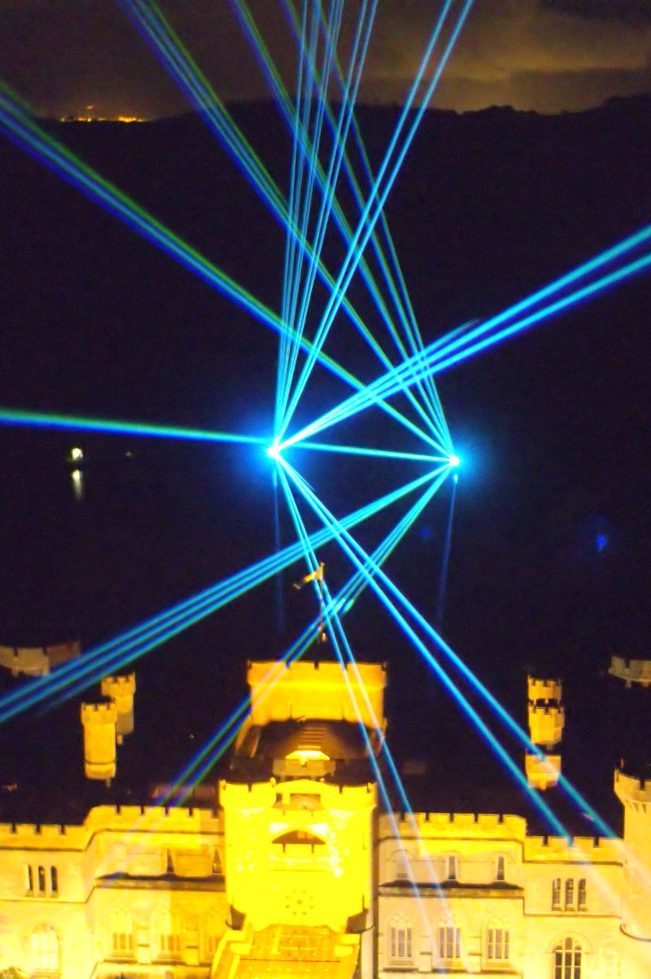 Large scale outdoor PA
for events
Filming from the sky is where we started in the UAV / drone world. Since 2015 we've had the permissions required from the CAA to film for commercial projects day and night.
We also have ground broadcast cameras, NewTek live vision mixing servers, robotic cameras and Teradek wireless video senders in house.