BBC Children In Need has been running since 1980 and raised over £1 billion in funds for children and young people in need in the UK.
Pudsey Bear is synonymous with the fund raising event and we took on the challenge to draw the character in the night sky using our drone swarming technology – Drone Light Show Painting.
Just 1 drone tracing round using RTK GPS to maintain positional accuracy in the sky. Unmanned aerial systems or Drones are being used for all sorts of projects from surveying and photography to drone swarm light shows.
The design is created in 3d animation software www.blender.org and our experts carefully program where the drone will travel and what colour the LED system will light up at every point in time during the flight.
3 independent radio uplinks control the drone with multiple levels of redundancy overseen by full manual control by a member of our trained flight team.
Our LED system is considered industry leading with more control and colours than anything else available. Developed in house DigiPixel is used not only to produce vivid colour it can also control up to 8 channels of fireworks or pyrotechnics.
Before the animation is launched in the sky the flight is very carefully simulated and checked for several parameters such as flight speed – this pre-deployment work is vital in ensuring a safe show.
If you'd like your logo in the sky – get in touch. We can either display it in real time for the world to see or as a sky light painting feature (pictured above) where you will only see the animated drawing after the camera shutter closes.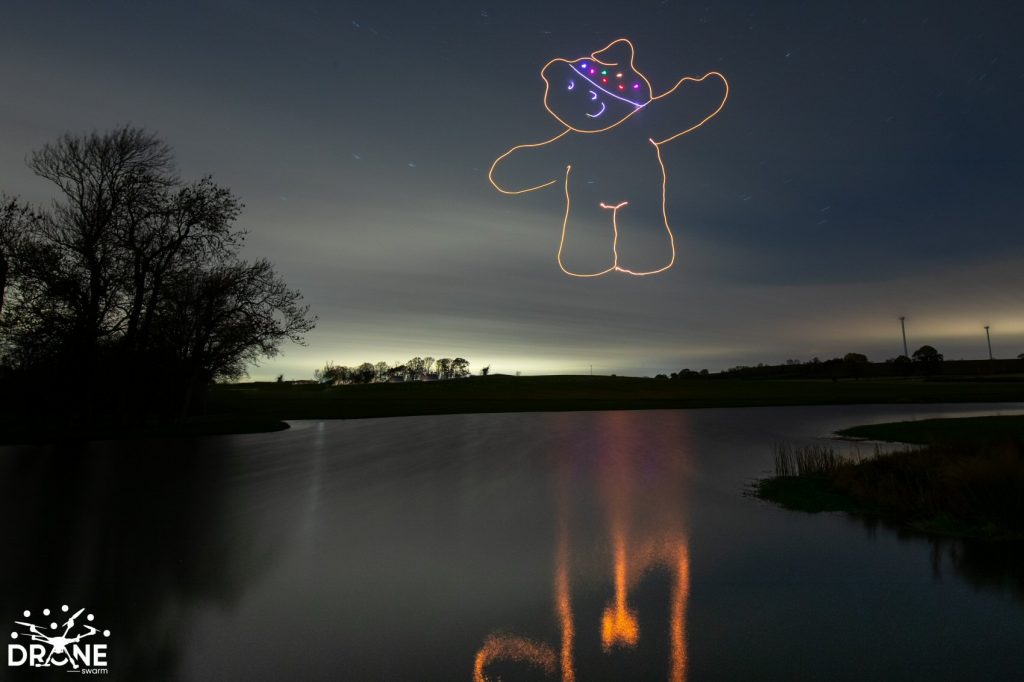 For more information on light painting techniques visit https://www.canon-europe.com/get-inspired/tips-and-techniques/light-painting-photography/
Camera – Canon 1DX MK II, 16-35mm Canon L series
Get in touch by clicking here to discuss your animation or project.